One of the keys to building your customer base, getting your products seen, and really promoting your store, blog, or items is to get the traffic there. This is a lot harder than it seems. Originally, I thought, "heck, just put your url in some search engines and your set. The people will come running" Well, it does not work that way. There is a lot of competition out there. You not only want traffic, but you want the right kind of traffic- meaning you want people who are truly looking for your type of product to be able to find you.
You also want the occassional person who just stumbles across your site. These are the people who may not know they are interested in your item. How many times have you stumbled upon a site, then thought, "Wow! that is really cool"? You bookmark it, mention it to a friend or two, then go back to it again later. Well, traffic and rotator services provide you those unique customers who may not realize they are searching for your product, but will check it out.
When using the traffic services and rotators you will need to make sure you are very descriptive in your site or shop promotion. Most services offer viewers several sites to choose from each time they log in. Therefore, you have to put the best bait on your hook and gear it towards the right audience. For example, traffic swarm below, allows you to write a description, add a "catch line" which is posted in bold above the description, and choose up to 3 categories for the target audience. You can even become more selective by logging into your account (once signed up) and choosing male/female, age ranges, occupations, etc. for your target audience. If you have done some serious research you may want to narrow it down that precise, but if you are not sure, I would leave those open. You don't want to exclude potential customers.
The services I have listed here for you are all free. I use all of them. I am not overwhelmed with emails, I am not solicited on a regular basis, I choose the time and frequency I want to browse other sites and in return I earn credits. I can spend my credits on whichever of my sites I choose. I actually set my Traffic Swarm as my start page so I remember to browse a few sites every day when log on. You only have to browse for 20 seconds per site, but I find that I often spend much longer than that. Through Traffic swarm I have found several great blogs, great sites, fantastic shops, and informational/marketing tools that I use daily now. I was truly surprised at how many great links I have bookmarked through all of the services listed below. I think you will be, too.
So, choose one or all, sign up, and start increasing your traffic today. Then come back here, and share with us your feelings about these services.
Just an additional FYI, each of these services offers a stats page after you log in so you can track how many referrals you have made, your credits, and how many hits have been to your site. Once you get the traffic, then we will move towards converting the traffic to sales! Good luck!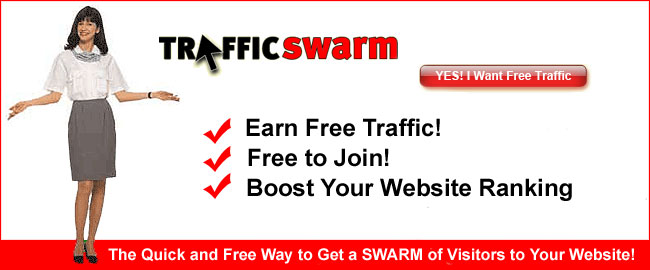 Finally....
VAS is here!
http://www.viraladstore.com/index.php?aff=27997
The brand new list builder from Mike Purvis and Greg Hickman.
But wait... This isn't just any ordinary list builder. VAS is jam packed
full of super cool features that will just blow you away.
* Mail your downline 10 levels deep
* Earn bonus credits for viewing ads and referring new members.
* Spend credits in the online store on advertising or real IM products.
* The Jackpot Email - This one is really neat! Find the daily Jackpot
email and win a random prize. If one of your referrals wins, then you
do as well :)
http://www.viraladstore.com/index.php?aff=27997
To top it all off ViralAdStore has a powerful downline builder that
will earn you traffic from several other sites just from promoting VAS.
VAS is the only list builder you'll ever need!
Join now for FREE.
http://www.viraladstore.com/index.php?aff=27997